Palliative care is specialized medical care for people living with a serious illness. This type of care is focused on providing relief from the symptoms and stress of the illness. The goal is to improve quality of life for both the patient and the family.
Palliative care is provided by a specially-trained team of doctors, pharmacists, nurses and other specialists who work together with a patient's other doctors to provide an extra layer of support. Palliative care is based on the needs of the patient, not on the patient's prognosis. It is appropriate at any age and at any stage in a serious illness, and it can be provided along with curative treatment.
Purpose
This 17 credit hour certificate program prepares students to practice as palliative care generalists upon graduation of the Doctor of Pharmacy (PharmD) program. Students who complete the Palliative Care Certificate will possess the knowledge, skills, and attitudes to serve patients living with serious illness across the trajectory of life, in a variety of general pharmacy practice environments and non-palliative pharmacy specialties. This certificate also prepares graduates to pursue advanced post-graduate clinical training including palliative care residencies and fellowships. Enrollment in and completion of the Palliative Care Certificate will be indicated on each student's transcript.
"My hope is that the certificate students will serve to be change agents in healthcare, and that they will advocate for their patients to receive this care."

James Ray, Associate Professor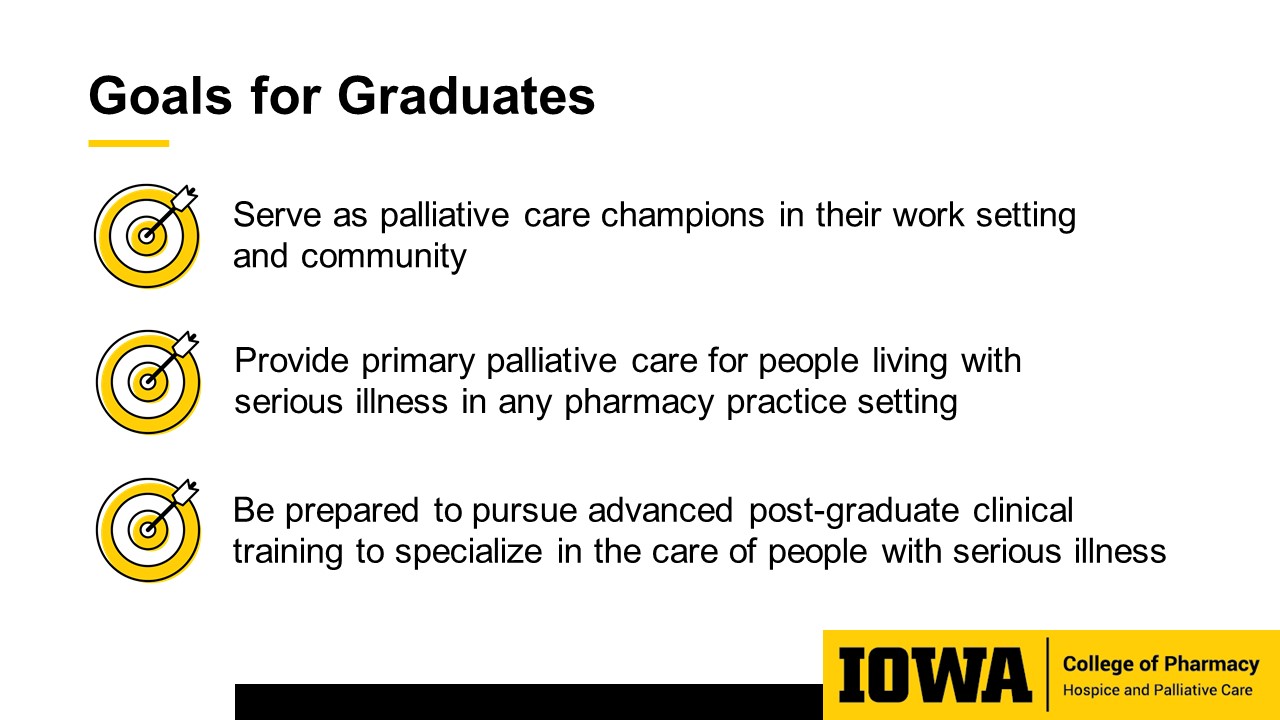 "The certificate program set the foundation and provided me with the resources I needed to achieve all I did in residency. Because of the certificate program, I was able to start 2 new rotations during residency, adult palliative care and pediatric palliative care; neither team currently has a pharmacist at our hospital. This allowed me to evaluate the addition of a pharmacist as part of my year-long residency research project."

-Jillian Ginger, PharmD, Class of 2019
Certificate Description
The Palliative Care Certificate encompasses successful completion of a unique body of work including three didactic elective courses, one experiential elective course (in palliative care, hospice, or pain management), and one longitudinal professional discovery course. With the exception of the professional discovery course, credit hours earned as part of the certificate may be applied to concurrent completion of the PharmD degree.
Courses
Foundations of Palliative Care
Ethics and Spirituality in Healthcare
Advanced Pharmacopalliation 
Continuing Professional Development in Palliative Care

 - 

This longitudinal course fosters self-directed learning and development in palliative care among pharmacy students. Students will create and implement a professional development plan. Offered after acceptance into Palliative Care certificate.
APPE elective in Pain Management, Hospice, or Palliative Care - Selective/APPE Blocks 2-9. Open to P3s and P4s.
How to Apply
To apply, students must email the below items to pharmacy-pallcare@uiowa.edu.  Once these items are received, interviews will be scheduled with a select group of students.  A maximum of 16 PharmD students will be admitted.  The deadline for submission is November 8, 2021.
Letter of intent
Current curriculum vitae
One letter of recommendation from the student's College of Pharmacy faculty mentor
One letter of recommendation from a professional reference outside the College of Pharmacy (e.g. employer, previous professor, coach, colleague or supervisor from a volunteer experience)
Please send all submission materials to pharmacy-pallcare@uiowa.edu. 
PharmD, CPE, Clinical Associate Professor
Clinical Pharmacy Specialist, Adult Inpatient Supportive and Palliative Care Consult Service
james-ray@uiowa.edu
@Rxpalli8r
(He, Him, His)
PharmD, MA, Clinical Assistant Professor
Clinical Pharmacy Specialist, Adult Outpatient Support and Palliative Care Consultant Service
Co-Director, Pharmacy Educator Preparation Program for Residents
kashelle-lockman@uiowa.edu
@PalliPharmer
(She, Her, Hers)
PharmD, BCACP, Clinical Assistant Professor
Clinical Pharmacy Specialist, Adult Outpatient Supportive and Palliative Care Consult Service
lorin-fisher@uiowa.edu
@lorinfisher
(She, Her, Hers)